What is vitamin E recommended for?
Due to its powerful effect against free radicals, vitamin E is known as the vitamin of youth and its external use turns out to be a great ally in the fight to improve the skin.La Vitamin E is a powerful antioxidant that is essential for the body and for the battle against free radicals, what significantly affect collagen and elastin, generating loss of firmness and a noticeable aging of the skin
Many creams created, which are used to reduce wrinkles and improve the condition of the skin, incorporate Vitamin E in their formulas in order to make them one of the best allies in beauty.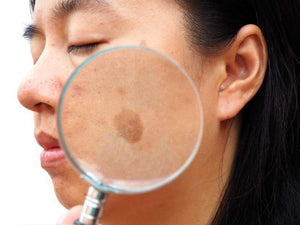 Vitamin E to remove scars, wrinkles, sun spots and stretch marks.
Vitamin E oil can remove deep scars, sun spots and even stretch marks. What this vitamin E oil does, is that regenerates the skin little by little, as it fights cell damage. Although it is not an immediate change, it is profound and effective. It can be used as a night serum to prevent wrinkles as it offers nutrients that revitalize tissues and stimulates blood flow.
Vitamin E has a great antioxidant power, contributing to the protection of cells against oxidation caused by free radicals, such as tobacco or cigarette smoke, air pollution, or ultraviolet solar radiation. In our store you will find a serum vitamin E that when applied to your skin it is absorbed immediately and does not leave a greasy sensation. It meets all the guidelines for this vitamin for beauty care and is a completely natural product. We have listed 7 of the benefits of this facial serum below.
1. Since vitamin E is a fat-soluble nutrient, when you apply it to your skin, it helps fight UV damage to your face, thanks to its antioxidant action.
2. Reduces premature aging by UV radiation.

3. Helps prevent contamination and external agents from damaging your skin.

4. Significantly improves the surface of the skin.
5. Its anti-aging effect is so powerful that it will help reduce the spots that begin to appear due to the sun.

6. It is highly recommended for scars and superficial burns (even those caused by the sun), but to better achieve this change, the ideal is to be constant and create a habit in the application of this product.

7. If you have wrinkles, products that contain Vitamin E will help you visibly reduce them thanks to the fact that it improves the relief of the skin.
What is vitamin E recommended for?
---
1 comment
---
---