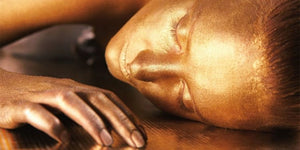 24 karat gold on our skin!
We know gold as a precious metal, for beautify thanks to jewelry, although you can also do it thanks to cosmetics.Since ancient times, this precious metal began to be used for skin care and beauty.
This is shown in ancient writings which state that Cleopatra He had a mask made of pure gold to wear while he slept. Also in the Ching dynasty; The queen already used a roller made of gold to massage her face and eliminate wrinkles, keeping herself younger.
Like the Hollywood actress Elizabeth Taylor who wore masks with pure 24 karat gold; this being one of her great secrets to stay more beautiful during so many years of her career.
How does 24 Karat Gold cosmetics work?
The functions as a cosmetic theoretically is stimulate the transfer of electrons between gold and ions naturally found in the skin, thus it helps to stimulate cell renewal by activating its energy.
Thus, the gold acts as if it were a small charger, between the metal and the electricity that we have in our body, when coming into contact with our body, this stimulates electrical activity which helps to improve the elasticity of the tissues. It in turn stimulates the formation of collagen and elastin.
What beneficial actions does it have?
Gold is used in many ways in medicine, from oligotherapy, to the reduction of rheumatoid arthritis thanks to its ability to reduce inflammation.
In cosmetics, one of the most notorious functions is to give radiance to skin, as it stimulates blood microcirculation.
In patches or eye creams. To the Improve circulation Helps reduce dark circles and revitalize skin.
As effect tensor and regenerator, since by activating the micro-circulation. It improves the formation of cells in the basal layer and in turn stimulates cell growth.
About collagen formation, gold improves the formation of this, which helps to keep the skin elastic.
Collagen tends to concentrate around the gold, increasing capillarity and improving skin cell regeneration.
When increases this cellular capillarity and activate blood circulation, improves the contribution of nutrients and the activation of the epidermis and the formation of collagen and elastin, this improves the elasticity and firmness of the skin.
By improving the supply of nutrients, the skin is more hydrated and luminous.
Gold, in turn, acts as antirust by preventing the formation and accumulation of free radicals.
Some doctors describe multiple benefits of gold from anti-aging, anti-inflammatory and even anti-acne actions.
24 karat gold on our skin!
---
1 comment
---
---